Instagram sketchbook campaign for MINI
When I was born, I was brought home from the hospital in my dad's maroon MINI way back in 1965, 
19 years later I bought my first car; a MINI :)
So when I was approached to put my own spin on what the new MINIs mean to me I wasn't short on inspiration. 
Below are a series of sketches reflecting my artistic take on the MINI brand.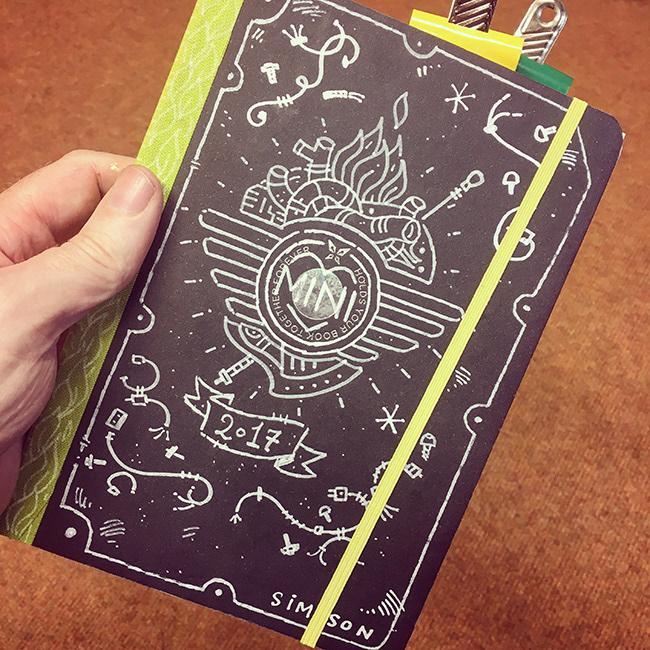 All good ideas start by putting pen on paper. That has been the beginnings of the creative process for Dublin-based illustrator Steve Simpson for the past 30 years. Having spent years working in his first love comics, Steve started designing distinctive packaging inspired by 1950s advertising. His initial doodles have then ended up becoming anything from a tiny postage stamp to a huge billboard in Times Square. The secret to his success? Creating designs that catch someone's eye and make them take a longer look. His unique style means that each design is not only personal but instantly recognisable. Making retro seem modern and new – Steve has made it his business.

Just like each of Steve's designs are formed in his notebook, every MINI starts off as a sketch. With passion and skill, this first drawing then becomes a car. What do MINI and the work of Steve Simpson have in common? Equally unmistakable and individual.

MINI Q&A
What is creativity?
Creativity is free thinking - using your imagination to come up with original ideas, and for me, getting them down on paper. I don't believe just because you are great at drawing you are necessarily being creative. Copying isn't being creative. Also, being creative doesn't mean you are going to be a painter or visual artist. I think the most important ability a creative person has is looking beyond what is often seen as the established way of doing something, having the ability to question the norm.
What are your influences?
I think there is probably very little I'm not influenced by. What really interests me is using different 'likes' together to create something new. This might be through nature, music, the media. I'm very interested in history, folk art plays a big part in my work - I love the idea that much of this work wasn't created for commercial gain, but simply to make things look beautiful. I'm a big fan of William Morris and the Arts & Craft movement. In my packaging design work, I try to make even the smallest part of the design relate to the whole.
In what ways does your creative work impact on the way you live?
I have a very bad memory and have to mentally picture instructions. So "don't forget to lock the door" becomes a mental picture of putting the key in the door and turning it. Now it's locked, no pun intended, in my mind and I probably won't forget. This coping mechanism is probably what has led me to be creative. It's much easier for me to draw something to express myself than it is to either write or say it out loud. I like things to be ordered: If I'm doing something new I need to mentally order the process first. I like to be prepared. 
Three words to describe your philosophy of life?
Dreams, strength and humour.
What's the best advice you've ever had?
I've had lots of wonderful mentors and teachers through my life, especially in my student days and early career when I was never shy of asking for advice. In later life, I realised that much of that advice only ever applied to a particular problem at a particular time. Advice can be hugely useful but must always be taken with caution and questioned - I'm sure someone must have put that in my head initially, I can't remember who though.
Did you always feel like an individual? Did you always want to?
I think so, I have a lot of great creative friends in the illustration and design community - I feel we are a collective bunch of individuals.
Your perfect weekend getaway is…
I love visiting new places, cities are my favourite. Being able to sit in a cafe or park and sketch in a completely new environment is very rewarding. I also really enjoy getting away to the country with a bunch of illustrators to paint and draw. In the past, we have hired a chateau in France and also Galley Head Lighthouse in Cork.